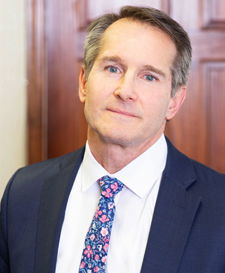 Scott M. Goldberg
Member NJ, PA Bar
Certified Civil Trial Attorney, NJ
Scott M. Goldberg, Esq. is the lead trial attorney in the personal injury department of Petrillo & Goldberg. Mr. Goldberg has been licensed to practice law since 1987 in the States of New Jersey and Pennsylvania, as well as before the U.S. Supreme Court, 3d Circuit Court of Appeals, and U.S. District Courts of New Jersey and Eastern Pennsylvania.
He currently serves as a court appointed arbitrator in the Superior Courts of Camden, Burlington and Gloucester Counties. He has served as a Blue Ribbon panelist for Civil Actions as well. Mr. Goldberg also serves as a plaintiff's arbitrator for numerous area law firms for uninsured and underinsured motorist arbitrations.
He is a member of the Camden County Bar Association and the New Jersey Association for Justice. In addition to his private practice, Mr. Goldberg has lectured on various litigation topics before the American Trial Lawyers Association – New Jersey, Camden County Bar Association, New Jersey Association for Justice, National Business Institute and the American Academy of General Practitioners. He earned his Bachelor of Arts Degree, Cum Laude, from Dickinson College, and his Juris Doctorate degree from Rutgers University in Camden.
As lead trial attorney at Petrillo & Goldberg, Mr. Goldberg has taken hundreds of cases to trial in state and federal courts in New Jersey and Pennsylvania. His verdicts have been the subject of articles in a number of jury review publications. In 2008, Mr. Goldberg received the designation of certified civil trial attorney. Only a fraction of the trial attorneys in New Jersey receive this recognition. Since that time he has been recertified in 2013 and again in 2018.